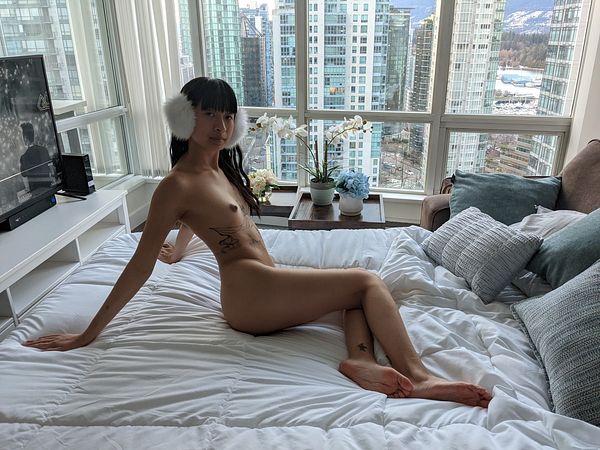 Third Wheeling Erotica
Getting paid to write out someone's cuckoldry fantasy
I had the magnificent opportunity the other day: a gentleman paid me to write smut! I was given lots of creative freedom for those five pages. I can't wait for the next time a buyer wants me to express my literary skills! I share the entire passage on my patreon at the $5/month tier. Enjoy.


Pregnant Felicity's face was practically glowing. Her smile radiated like the first sign of Spring. She never wore underwear in public if she was wearing a sundress. Her man left no thigh unsqueezed whenever she sat in his car. He equated cupping her swollen breasts to shaking hands with a god.



One April morning, Felicity's spouse made an announcement over breakfast,



"I want you to cuck me. I don't care who you pick. I want you to humiliate me for having a small penis. Make fun of me for being circumcised all you want. I'm ready as soon as you are." Felicity's lover was a self-described voyeur and understood he didn't need to be in control in order to have a successful relationship. Felicity is a switch–meaning she enjoys being submissive and being dominant. Hearing her man utter those words made her pussy tighten, like when she heard him say how badly he wanted to fuck her on their wedding night.



She knew the perfect candidate for the job: Tyler. Tyler's cock made her man's cock look like a chopstick. Felicity is a woman of many talents and fluids. She lost count of her bodies after her nineteenth birthday. Of course men on every sidewalk were pining after her. But Tyler was the closest human to a sex god–besides Felicity. Tyler was new to living in the Bay Area but not new to cuckoldry. Felicity and Tyler first met at Columbia University when he was training to become a veterinarian. Tyler's daydreams consisted of Felicity appearing on his doorstep wearing lingerie and high heels. All three horny people agreed on the date when the cucking would commence.

- - - - - - - - - - - - - - - - -


"Honestly…I wish this baby was Tyler's and not yours." Felicity's husband was not expecting her to drop a bombshell statement like that, but his erection remained nevertheless. She led Tyler to the neatly made bed and prompted him to undress her. It took every ounce of his willpower to not pound Felicity immediately. Kissing Felicity was truly heaven on Earth. She and Tyler never broke eye contact while they applied silicone lube to their genitals.



"When Tyler is done leaving a mess inside me, you need to thank him for pleasing me."



"Got it." replied Felicity's spouse in a raspy voice.



"I'm never gonna worship your dick the way I worship Tyler's." said Felicity whilst squirming in Tyler's hands. Her cheeks were flushed as she laid on her back. Tyler took no leisurely time getting naked. Felicity played with his balls as Tyler's pupils dilated.



"See? Even his pubic hair is nicer than yours." remarked Felicity as she was circling Tyler's cock around her birthing hole. Tyler firmly gripped her deliciously fertile hips.


"You can fuck whoever you want, whenever you want my love." murmured Felicity's man. It genuinely brought him joy to see his wife happy, even if it was at his expense. The three of them agreed beforehand that Felicity would do the degrading and not Tyler. Felicity instructed Tyler to sit on the bed before massaging his
cock between her boobs
.

"Please…" moaned Tyler, "Please sit my cock and ride me."


"My married pussy belongs to you." responded Felicity with a grin.
- - - - - - - - - - - - - -
To read the rest of this story, please head over to
patreon.com/felicityazura