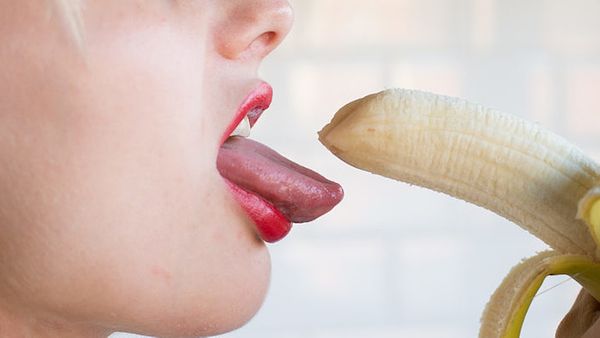 Suck it like a Porn Star
Samantha Jones on Sex and the City said it best when she said "You men have no idea what we're dealing with down there. Teeth placement, and jaw stress and suction, and gag reflex and all the while bobbing up and down, moaning and trying to breathe through our noses. Easy? Honey, they dont' call it a job for nothing."
Tip 1: Confidence. Get it or Fake it
Few women love doing this. It smells, its not fun, it doesn't taste good, we get NOTHING out of it. So fake it. The more you love it the faster he will cum. Embrace your woman powers and act like your the sex goddess you are. While your here in this moment, his cock in  your face, you are the object of his desire and you own him.
Take your hands and rub his thighs and hips and give don't be afraid to give a little squeeze. Look him in the eyes and give him a show. The more you act like you like it, the less he will care about technique and moves. Moan, play with your tongue, stare him down.
Tip 2: Explore.
Take your time and explore him. Like Women, not all men are the same. Pay attention and take notes. When you do something right he'll let you know, take note. When you get no reaction, chalk that up to a tease. Relax! As soon as you do something right, he'll forget anything you've done "wrong". Have fun, take time, explore and take notes. When you want him to cum fast, hit up that mental list you've made of everything he likes.
Tip 3: Hands.
Not all men like hands but don't forget to use them. One hand on the base of the shaft, one hand on the balls. Hand on the shaft moves WITH your mouth, the other massages the balls for extra sensation. Men LOVE it.
Tip 4: Spit.
A lot goes into this. So the spit at the back of the throat is the thickest. It protects your throat against germs, bacteria, viruses, and keeps your throat wet. Its also best for blow jobs. The spit at the front of the mouth is most watery. Its not a bad idea to drink something creamy or milky ahead of time. It doesn't take much to get a nice thick lubricant. Use this to help you glide your mouth and hand over him.
Tip 5: Teeth.
I know you know better. Put that tongue over those bottom teeth! Its okay to nibble on the tip but when you go for long broad strokes, keep that tongue over that bottom jaw and make sure the top aren't digging in either. Put your head back and guide him out of dangerous angles. It also helps you keep eye contact.
Tip 6: Breathe.
Slowly lick your way to the head of the penis and use your breath. Wet things become more sensitive so blow through lips to make something cold, open mouth "ahh" gives off hot air. Play with temperatures. I like to lick my way down one side of the shaft and then blow on it. He's already begging for my warm mouth, he's begging more when he's cold.
Also, take a deep breath before you deep throat and always have control.
Tip 7: Hot Spots.
Cold, Warm, Hot. Anywhere is good but he does want to cum and you need to keep it hot. Again this varies some so pay attention, play, and figure it out! Cold spots are front of the penis and the front of the balls. Basically anywhere the boxers rub. Warm spots are the sides and under the shaft, back of the balls, and the front of the head of his penis. Anywhere feels good some but more than others. Hot Spots - Under the head of the penis, the urethra, back of the balls and theres a spot between the balls and the anus called the taint.
Tip 8: Voice.
Tell him what you do before you even go there, and see what makes his dick twitch and get hard. Talk while your there - men love it. Some men like gagging noises, some don't. Moan while your there. Groan. Hold his balls in your mouth and when you moan it will create a warm vibrating feeling. 
Remember when John Mayer called Jessica Simpson sexual napalm? Lets put it all together ladies -
Blow by blow:
Pretend you are a wild sex godess who knows every trick in the book, mastered all of them and have a few tricks of her own. Tell him what your going to do and tell him he's going to love it. Kiss your way down there. Look at him and say oo so big, so hard. Hold the base and take control. Lick and suck - start at the base and move towards the lip. Get it nice and wet, and blow that cool air up and down his cock. Do the next side. Tease him. Rub him with your hand. Go for the bottom and work your way to the rim. STOP. Look at him. Get that back of the mouth spit. Stick your tongue out and place him on your tongue. Rub him from side to side, back adn forth over your tongue. He wants it but you control. Stare at him and tease. Close your mouth around the head while staring at him. Twirl your tongue around the head. DO NOT SUCK WHILE TEETH EXPOSED! Put that tongue over the bottom teeth, put your head back so your top teeth are more paralell to his cock and suck. You can start on the tip. Play right speeds. Try to get that back spit and keep it wet. Moan. Tickle him with your tongue. Always start slow and work your way up. Take him in your mouth inch by inch. I like to suck him into my mouth, then all the way out, suck harder and take in more, then all hte way out. Moaning! Love it, or at least fake it - the more you act like your enjoying it the hotter it is for him. Stare at him. Match his excitement. Pay attention! You can't cum for him so dont' get more excited than he is, pay attention to what drives him nuts. If you can, deep throat. That takes a lot of practice so don't be upset if it take ssome time and don't force it. Dont' throw up. Palm his balls and massage as he goes in adn out of your mouth. Try to keep suction but little to more and more. Speed slow to fast. As he builds you build, he guides. Move him faster back adn forth in your mouth and move your hand WITH your mouth. Massage those balls. Suck. Cover teeth. Keep wet. Get sloppy. Make noises! Stare at him. Let him guide you. Moan. Love it. YES! Get loud, get noisy. Look at him. Massage. Speed up. Decide where you want him to cum! Pay attention! Anything you did that first drove him nuts, this is the time to do it again. Build upon what your doing and CUM!
Extra Tip:
In your mouth or somewhere else is up to you. If he eats a lot of fast food then I dont' recommend cuming in your mouth. Pick your face, your chest, in a napkin. If you let him cum in your mouth its a good idea to have a lot of spit built up first so you can swallow fast and not have to taste as much. 
Feedback: What did he like? What did he not like? If you pay attention then you already know, otherwise ask. Ask what is favorite things were, what his favorite things are and do it again! Practice makes perfect!